Amendra Pratap
August 1, 2021
It's an amazing feeling as we gear up to celebrate Octane's 5th anniversary. What started as an idea and nurtured by me and my senior leaders is fast transforming into an established and growing enterprise.
Five years is usually a significant milestone in a startup's life as it pushes you into a grown-up zone. It's been an exciting journey and the pandemic indeed threw some curveballs at us.
From Macquarie to Octane
I am often asked about the motivation to resign from Macquarie Group to start Octane.
Macquarie was an excellent learning ground to nurture one's entrepreneurial fire. I found a gap in the market to provide the latest AI-based technology to the Office of Finance. Some existing suppliers were either too expensive that meant the projects did not stack up against a cost/benefit analysis. Others simply did not have the skills or expertise to deliver complex Financial Projects.
My vision was to establish Octane as a specialist provider of Finance technology at a price point that allows for a wider adaptation. This was to be achieved using a hybrid onshore/offshore delivery and support.

I think we are keeping true to the vision and adjust and adapt due to market demands.

I must admit that the pandemic has validated our business model as the whole world adapted to remote working and sought out to optimise how they operate and a rapidly volatile environment.
Reflecting on some of the significant achievements of Octane over the last five years would be:
Onshore/Offshore TM1 Delivery - We established skilled TM1 teams in Sydney and 4 Centres in India. Using a combined onshore/offshore delivery model, we were able to deliver projects and support TM1 models much quicker and cheaper than our peers as well as our internal teams.


DataFusion - Over the years, we have developed and fine-tuned an API based connector into TM1. DataFusion allows TM1 data to be reported in other reporting tools like Power BI, Qlik and Tableau.


TM1 Training - We launched our $99 training sessions for end-users. This has proven to be quite popular within the community. Typically, training cost thousands and can be difficult to find.


We have simplified the whole process and offered great value for a low price. Obviously, this is a loss leader for us but has certainly opened up doors to a number of clients who saw the depth of our expertise via this training.



Octane Managed Services - Building upon our onshore/offshore capabilities and growing functionality, we now offer Octane Managed Service, which provides DevOps capabilities. This provides an easy to consume model and transparent pricing covering several tools and applications.
This allows Finance teams to focus on what they do best and not be bogged down with trying to run a Software shop.


IBM Gold Partner Status - We were extremely proud to achieve our IBM Gold partner status in 2018.

IBM Champion Status - I was personally awarded the status of IBM Champion in 2021.


Partnerships - As part of strengthening our offering to the Office of Finance, we have partnered with some of the most respected vendors:

IBM - IBM is a giant in the industry. They have some of the most widely used software within Finance teams. They are leaders in integrated budgeting & forecasting, Statistical Analysis, Optimisation, Robotic Process Automation and of course, Watson for Artificial Intelligence.
Blackline - Since being founded in 2001, BlackLine has become a leading provider of cloud software that automates and controls financial close and accounting processes.
MODLR - MODLR is a business modelling and collaborative planning software that provides everything needed to enable a connected financial planning process.
QUBEdocs - QUBEdocs enhances Cognos TM1 and Planning Analytics by adding a new dimension of visibility and information governance. It delivers meaningful documentation of TM1 models.
Other numerous partnerships we have with our peer companies around the globe to share information and resources.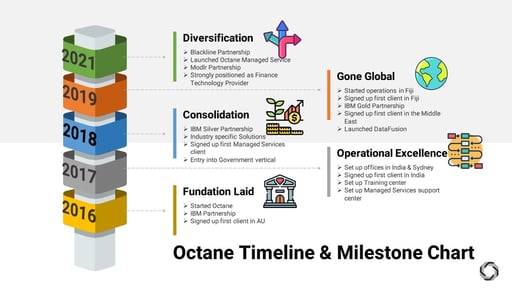 Octane timeline over the last five years.
Team Octane
The biggest shoutout goes to the team we have at Octane, who are absolute champions and masters of their domain.
We have always sought to foster and build up the skills of our people. While Covid has put a stop to our legendary quarterly team get-togethers in different locations, we have slowly started planning to work towards our next get-together in Goa when restrictions lift and we are all able to travel.
It was amazing how our team got together as the effects of the pandemic were starting to be felt around the world. Being in a situation where we had our staff deployed to Dubai and Fiji, it was a mammoth effort and patience required to manoeuvre through lockdowns, quarantine and travel arrangements to get everyone back home safely.
As always, our main concern was the safety and welfare of our staff. During the pandemic, we have to provide different levels of support to our staff and their family as some of them were affected by the virus which has brought us closer together as a tight-knit team.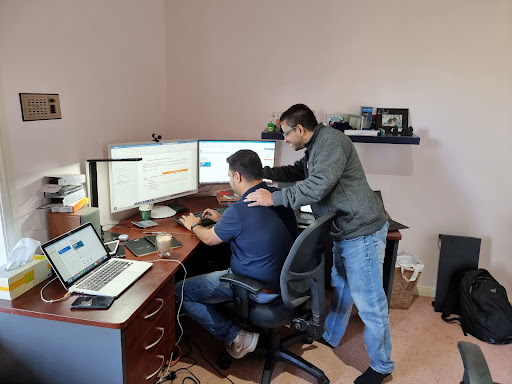 Work from home office became the norm in 2020.
Over the last five years, we have had the opportunity to work with clients of sizes and shapes. It's pleasing to note that the vast majority of them are with us for the long haul, and we have an ongoing relationship with them. We have always sought to ensure that my team and I go above and beyond to ensure client satisfaction.
It has become our DNA.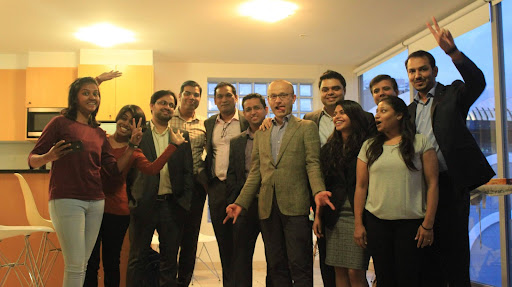 Our get together with the Sydney Team before the pandemic.
I am also appreciative of my family and their patience. Starting out and building something like Octane requires immense time, effort and energy. There have been almost monthly travels (pre-pandemic) and lots of late-night calls.
The silver lining in the last 18 months was that I was able to spend a lot more time at home, and we managed to get some long-standing projects off the ground. It also allowed me to compete and win the NSW WRX Motorkhana championship, spend more time with kids and helped in their driving competitions. We have also started building a race car for my daughter.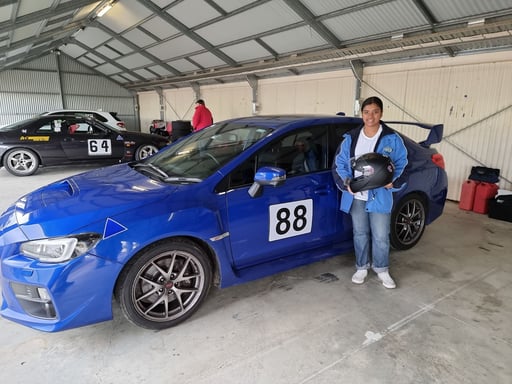 My eldest daughter, Risha at her debut race at 14 - Wakefield Park Raceway.
In the last 18 months, we had a lot of time looking inwards and reflecting and adjusting our priorities. We, as Octane, has partnered with the charity B1G1. This allows us to support many charitable projects. We already have workshopped many creative ways to integrate our clients and tribe of followers to be part of our giving philosophy - i.e. provide a specific charitable project linked to each training or webinar you attend or when a client signs up for our Managed Services.


We have partnered with B1G1 during the pandemic.
The last five years have been exciting and did not follow the script. But we have adapted and evolved. It would be impossible for me to predict what the next five years would look like. One certain thing is that we will be strengthening our base in our core area of providing the best and latest technology to Finance teams.
We allow them to spend more time analysing and less time producing reports. The other strong theme emerging has been the signing up of clients in new markets like the USA and Europe.
With Covid taking away the barriers to remote work and most enterprises realising the value of having market insights in a timely manner could provide a significant competitive advantage.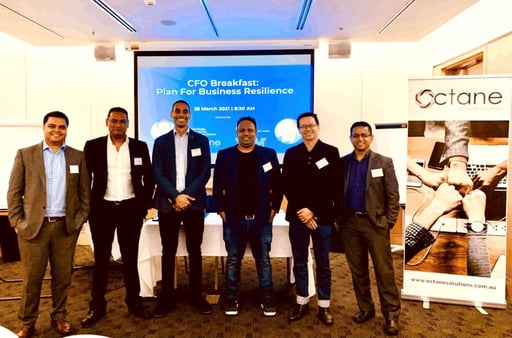 Our Octane team looking forward to serving you for the coming years.