Balancing Flexibility and Standards - IBM Cognos TM1 Govern Data Discovery
The world of data has infinite variety…and infinite requirements. No single analytics solution will please everyone. But it is possible to combine the strengths of complementary solutions to help meet the needs of both enterprise IT personnel who crave data governance and the end business users who are hungry for self-service. IBM offers different flavors of analytics to bring you the best side-by-side experience.
In today's blog, I would like to focus on IBM Cognos TM1 Planning Analytics - a unique union of data governance reporting and dashboards coupled with smart data discovery that just about anyone can use. With self-service, cognitive insight, visualisation, data governance, reporting and sharing, this blended analytics solution is bigger than the sum of its parts.
IBM Cognos TM1 Planning Analytics

IBM has completely redesigned its IBM Cognos BI products to focus on business users and strike a better balance between governance and discovery. The recent solution is and all-Web product that runs either in the cloud or on-premises and provides a more intuitive and guided user interface that makes it easy for business users to interact with and create content.
One of the striking features of IBM Cognos TM1 Planning Analytics is its personalisation and guided analytics tools. The product provides a single interface that gracefully exposes functionality as users evolve from content consumption to creation. Authorised users can open a report, dashboard or model, make changes and store the result for personal use or share it with others.
When using TM1 for reporting /dashboarding customers can be confident that data is validated and can be audited back to the source. Even in a distributed enterprise model TM1 is usually architected to be the single source of truth.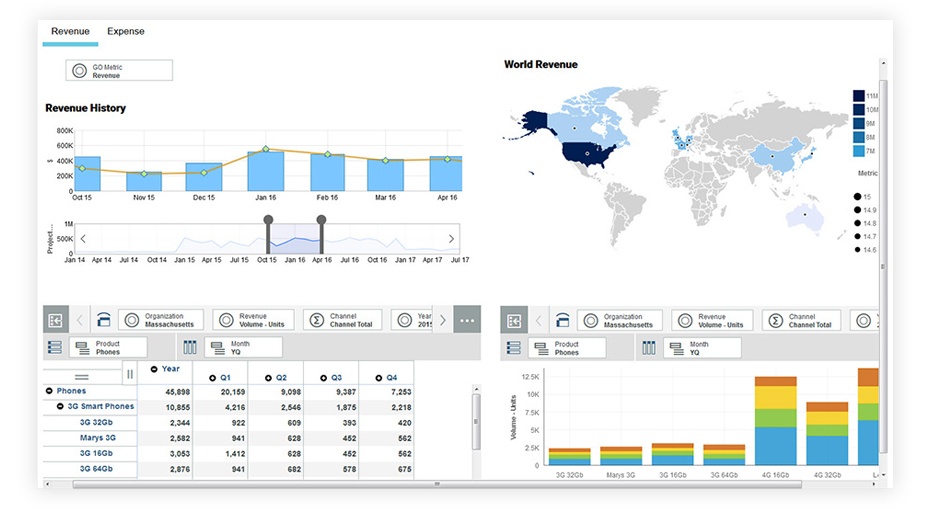 Intent- Driven Authoring
Consumers can not only interact with predefined reports and dashboards, but they can create new content using "intent-driven" authoring environment that uses a search interface to automatically generate visualisations based on keywords entered by users. Unlike other self-service BI tools, users don't have to drag and drop metrics and dimensions onto chart axes to configure visualisation; IBM Cognos TM1 Planning Analytics does this automatically just from the text users type into a search bar.
Intent-Driven Modeling
Besides auto-generating visualisations, IBM Cognos Analytics uses search to auto-generate modeled data sets that blend data from multiple sources. Called intent-driven modeling, the new feature enables IBM Cognos Analytics users to type in keywords to generate a data model for a new data set. Intent-driven modeling takes ease of use and self service to an extreme, enabling casual users to create new data sets from which they can build custom visualisations using intent-driven authoring.
Another noteworthy feature of IBM Cognos TM1 Planning Analytics is on-demand toolbars and menus in report authoring mode, which pop up as users click on data, exposing available functions, such as filter, sort, calculator and so on. Rather than overwhelm users with features and functions, IBM uses toolbars to put BI functionality at users' fingertips simplifying the BI experience and making it easier to navigate and interact with data.
Conclusion
IBM has been a mainstay of the BI market since it acquired Cognos in 2008. With IBM Cognos TM 1 Planning Analytics, IBM is determined to lead the market in ease of use and guided analytics. New self-service features make it easier for business professionals to create data sets and reports for personal and shared consumption.