Srinivas STP
May 29, 2019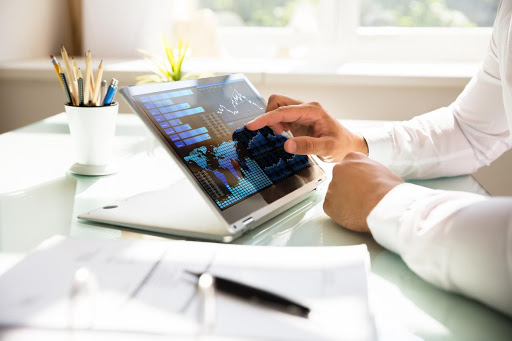 Predictive analytics:
Predictive analytics is the practice of extracting information from existing data sets in order to determine patterns and predict future outcomes and trends. A way to predict the future using data from the past.
Predictive analytics brings together advanced analytics capabilities spanning ad-hoc statistical analysis, predictive modelling, data mining, text analytics, optimization, real-time scoring and machine learning. These are tools that help organizations discover patterns within the data and go beyond knowing what has happened to anticipate what is probable to happen next.
Use historical information to determine patterns.

Once equipped with these patterns, predictive models are built and are used to forecast possible trends and outcomes.

Predictive analytics highlights approaching opportunities and potentials for risk to improve the quality of decision-making around upcoming events.
Prescriptive Analytics:
Prescriptive analytics is the use of technology to help businesses make better decisions in handling specific events by factoring in the knowledge of possible constraints, available resources, past performance and current situation.
Prescriptive analytics involves mathematical and computational algorithms and goes beyond predicting future outcomes by also suggesting actions and to benefit from the predictions and showing the implications of each decision option.
Prescriptive analytics seeks to determine the optimized solution or best outcome among different choices depending on current constraints, resources and priorities. Prescriptive analytics uses both descriptive and predictive data to determine a specific action to take.


Prescriptive Analytics capabilities :
Prescriptive Analytics hold below features
Prescriptive Modelling

Uses mathematical and computations models

Optimized solutions

Continually take in new data to re-predict and re-prescribe

Automatically improve prediction accuracy and prescribing better decision options

Visualization

Prescriptive analytics incorporates both structured and unstructured data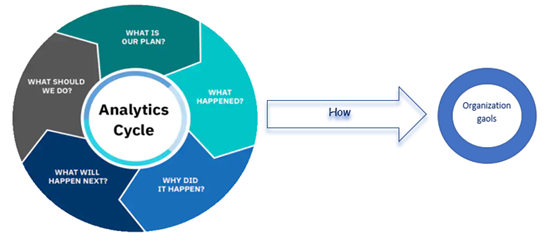 IBM Decision Optimisation is one such solution from IBM.
IBM Decision Optimisation:
IBM Decision Optimisation is a prescriptive analytics solution that enables organisations in commerce, manufacturing, financial services, healthcare, telco, government and other highly data-intensive industries to make better decisions and achieve business goals by solving complex optimisation problems.
IBM Decision Optimisation solves business problems using Mathematical and Constraint programming.
IBM Decision Optimisation solutions provide features that help create optimization models, either using general programming language APIs, like Python, Java or OPL to solve the breadth of optimization models, using proven and powerful optimization engines.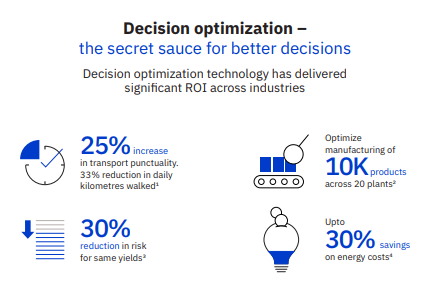 IBM Decision Optimisation is an integral part of IBM Watson® Studio, so users can benefit from all data science features of IBM Watson Studio, like access to machine-learning models, the ability to pass output from predictive analytics to the Decision Optimisation engine, access to open notebook features, visualization features and data connectivity options from IBM Watson Studio.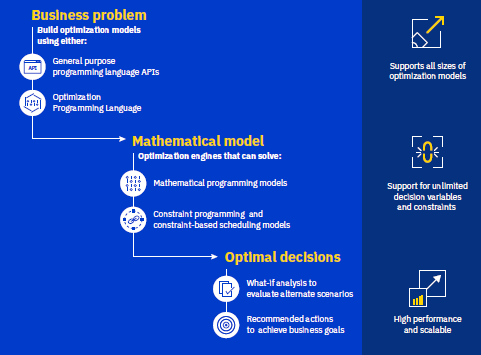 Key benefits
Powerful optimization engines for faster performance

Quickly build optimization models using your preferred language

Access to more data science features
Register for our webinar 'Business Decisions and Resource Allocation' to learn how IBM Planning Analytics with Watson and IBMLOG CPLEX work seamlessly together.
IBM Case Study:
Client:
Leading bulk tanker transportation company.
Business challenge:
To transport bulk products safely and profitably, this carrier needs to manage hundreds of constraints on tankers, drivers and cargos. How can it help its planners make optimal routing decisions?
Transformation:
This leading bulk carrier embedded IBM optimization software into its operational systems and developed a sophisticated solution that provides insight to optimize driver and route planning every 10 minutes
Results:
Millions of dollars saved annually by eliminating miles of unnecessary driving.
Millions more dollars saved annually by improving driver retention.
Million-dollar revenue boost achieved by increasing driver productivity.
Click here for more details.
Products
IBM ILOG® CPLEX® Optimization Studio

IBM Decision Optimization for Watson Studio

IBM Decision Optimization Center

IBM Decision Optimization on Cloud

IBM ILOG CPLEX Optimizer for z/OS
Organizational Benefits:
Optimized solutions to solve business problems.

Greater ease-of-use.

Comprehensive analytics capabilities

Movement to the cloud

Increased adoption beyond financial services

Overall market growth.

Open source integration

A flexible and scalable platform for one-to-many analytics.
Hope you have enjoyed reading this blog as much as I had testing this cool feature; stay tuned for upcoming blogs.
You may also like reading "What is IBM Planning Analytics Local ", "IBM TM1 10.2 vs IBM Planning Analytics", "Little known TM1 Feature - Ad hoc Consolidations", "IBM PA Workspace Installation & Benefits for Windows 2016".
For more information: To check on your existing Planning Analytics (TM1) entitlements and understand how to upgrade to Planning Analytics Workspace (PAW) reach out to us at info@octanesolutions.com.au for further assistance.
Octane Software Solutions Pty Ltd is an IBM Registered Business Partner specialising in Corporate Performance Management and Business Intelligence. We provide our clients with advice on best practices and help scale up applications to optimise their return on investment. Our key services include Consulting, Delivery, Support and Training.
Octane has its head office in Sydney, Australia as well as offices in Canberra, Bangalore, Gurgaon, Mumbai, and Hyderabad.
To know more about us visit, OctaneSoftwareSolutions.