Amendra Pratap
September 24, 2019

IBM Planning Analytics (TM1) vs Anaplan
There has been a lot of chatter lately around IBM Planning Analytics (powered by TM1) vs Anaplan. Anaplan is a relatively new player in the market and has recently listed on NYSE. Reported Revenue in 2019 of USD 240.6M (interestingly also reported an operating loss of USD 128.3M). Compared to IBM which has a 2018 revenue of USD 79.5 Billion (there is no clear information on how much of this was from the Analytics area) with a net profit of 8.7 b). The size of global Enterprise Performance Management (EPM) is around 3.9 Billion and expected to grow to 6.0Billion by 2022. The size of spreadsheet based processes is a whopping 60 Billion (Source: IDC)
Anaplan has been borne out of the old Adaytum Planning application that was acquired by Cognos and Cognos was acquired by IBM in 2007. Anaplan also spent 176M on Sales and Marketing so most people in the industry would have heard of it or come across some form of its marketing. (Source: Anaplan.com)
I've decided to have a closer look at some of the crucial features and functionalities and assess how it really stacks up.
Scalability
There are some issues around scaling up the Anaplan cubes where large datasets are under consideration (8 billion cell limit? While this sounds big, most of our clients reach this scale fairly quickly with medium complexity). With IBM Planning Analytics (TM1) there is no need to break up a cube into smaller cubes to meet data limits. Also, there is no demand to combine dimensions to a single dimension. Cubes are generally developed with business requirements in mind and not system limitations. Thereby offering superior degrees of freedom to business analyst.
For example, if enterprise wide reporting was the requirement, then the cubes may be need to be broken via a logical dimension like region of divisions. This in turn would make consolidated reporting laborious, making data slicing and dicing difficult, almost impossible.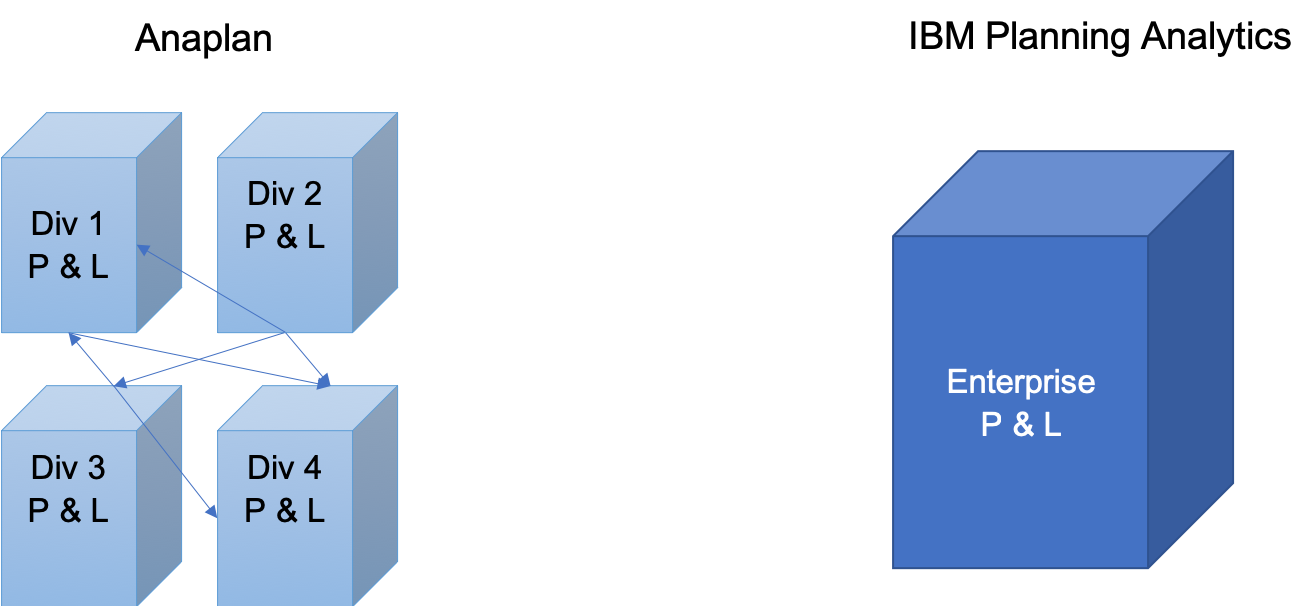 Excel Interface & Integration
Love it or hate it – Excel is the tool of choice for most analyst and finance professionals. I reckon it is unwise to offer a BI tool in today's world without a proper excel integration. I find Planning Analytics (TM1) users love the ability to use excel interface to slice and dice, drill up and down hierarchies and drill to data source. The ability to create interactive excel reports with ability to have cell by cell control of data and formatting is a sure-shot deal clincher.
On the other hand, on exploration realized Anaplan offers very limited Excel support.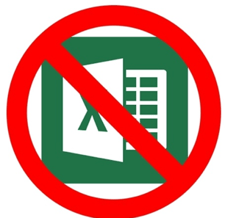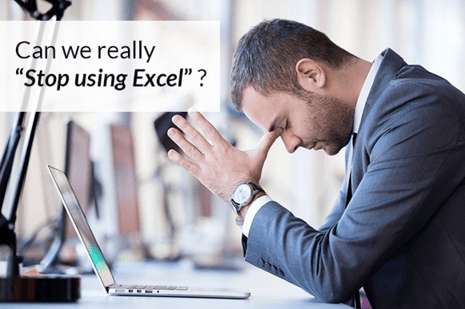 Analysis & Reporting
In today's world users have come to expect drag and drop analysis. Ability to drill down, build and analyze alternate view of the hierarchy etc "real-time". However, if each of this query requires data to be moved around cubes and/or requires building separate cubes then it's counterproductive. This would also increase the maintenance and data storage overheads. You also lose sight of single source of truth as your start developing multiple cubes with same data just stored in different form. This is the case with Anaplan due to the software's intrinsic limitations.
Anaplan also requires users to invest on separate reporting layer as it lacks native reporting, dashboards and data visualizations.
This in turn results in,
Increase Cost
Increase Risk
Increase Complexity
Limited planning due to data limitations
IBM Planning Analytics, on the contrary offers out of the box ability to view & analyze all your product attributes and the ability to slice and dice via any of the attributes.
It also comes with a rich reporting, dashboard and data visualization layer called Workspace. Planning Analytics Workspace delivers a self-service web authoring to all users. Through the Planning Analytics Workspace interface, authors have access to many visual options designed to help improve financial input templates and reports. Planning Analytics Workspace benefits include:
Free-form canvas dashboard design
Data entry and analysis efficiency and convenience features
Capability to combine cube views, web sheets, text, images, videos, and charts
Synchronised navigation for guiding consumers through an analytical story
Browser and mobile operation
Capability to export to PowerPoint or PDF

Source : Planning Analytics (TM1) cube