Srinivas STP
May 29, 2019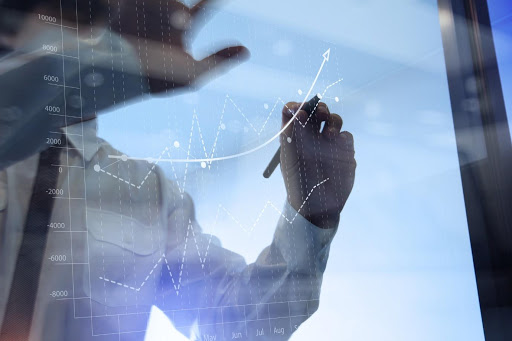 This article talks about Business Intelligence and Business Analytics, things in common and about differences between one another. This blog also talks about the paybacks for an organization once these are adopted.
Let's start ... Though Business Intelligence and Business Analytics sound similar and are being used interchangeably by many, they do have differences.
Business Intelligence ( BI ) :-
Term Business Intelligence, though exist for long, have been used by wider audience from late 90s .
Intelligence with in Business comes from the data being captured. Business Intelligence has been considered as a process to collect, store, maintain, retrieve and interpret data and purpose is to optimize, streamline and smoothen current operations within the Organization. BI helps in making better-informed decisions, improve performance, helps in creating new strategic opportunities for growth, eventually helps to better understand how the business is doing, make better-informed decisions.
In bullet points, BI is:
A process deals with collecting data, querying, reporting, online analytical processing and alerting.

The purpose of business intelligence is to support data-driven business decision making.

BI solutions collect and analyse current and historical, actionable data with the purpose of providing insights into improving business operations.

Improves and maintains operational efficiency and helps companies increase organizational productivity.

BI is more concerned with the WHATs and the HOWs(Performance).

BI Technologies are efficient enough to give insight on what happened in the past / is happening right now in business –If input data to BI systems is real and granular, Organisations would have a much better insight.

BI refers to set of technologies(DSS) supporting decision-making process by executives, middle management.

A dashboard gives all required insight needed, also displays data trend – thus helps management in taking right decision at right time to run the businesses effectively.

BI tools have evolved to become much more intuitive and user-friendly.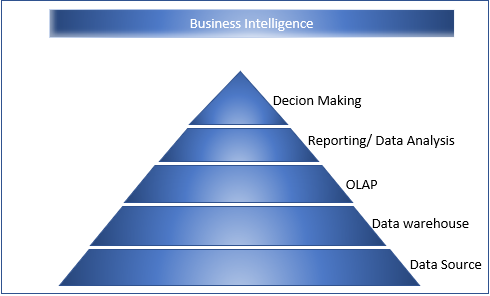 Business Intelligence gives information about the data itself and also provides insights rather than making extra transformations or conversions.


Business Analytics :-
Word, Business Analytics was also in existence for long but became a buzz word in last 10-15 years. Business Analytics is process of exploring data and interpreting data.
Uses Statistical analysis and predictive modelling

Business Analytics involves multiple technologies to transforming raw form of data into a meaningful way to convey the solution in best way possible.

Analyses past data to drive current business and predict future business. Supports management in decision making to change existing business operations and improve productivity.

Helps management in improving future business operations using current and history data, thus boosting future performance.

Uses past data to extract insight, drive customer needs and increasing productivity.

Establishes trends and helps analyse WHY things are happening and provide optimized solutions to solve problem.

Applies to companies where future growth and productivity is one of their goal.

Helps in answering WHAT and WHY and also HOW to achieve.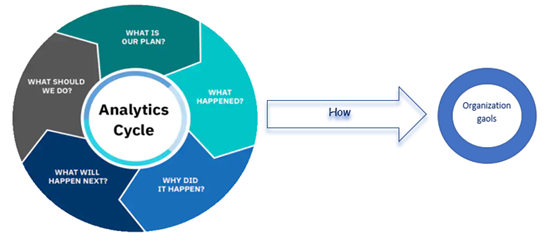 Business Intelligence and Business Analytics:-
Mutual:
Collects raw data, current and historical data. Transforms raw data into meaningful data.

Analyses data, helps in identifying pain points, provides alternatives, suggests optimized solutions.

Data mining helps in finding insights from existing data .

Rich visualization provides Dashboards.

Dashboards can be a single point to know how Organization is performing, Areas to focus, historical data visualization and many more.

Multiple technologies involved.
Focus:
Business Intelligence focuses on past and current data, Business Analytics also uses past and current data but helps in predicting future trend using existing data.
Business Intelligence Visualization helps with past and present trend to some extent predict future for the Business Model.

Business Intelligence uses traditional approach, Business Analytics uses Statistical methods and models.

Business Analytics though have reporting capability but primarily makes predictions using collected data and offers optimized solutions.
Business Intelligence focuses on Descriptive and Diagnostic Analytics, Business Analytics is more about Predictive Analytics and Prescriptive Analytics.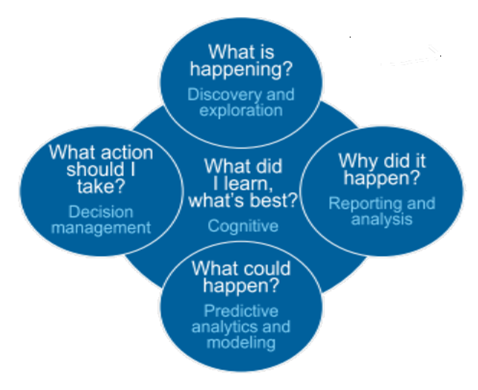 Both Business Intelligence and Business Analytics share activities with in above figure.
Organizational Benefits:
Business Intelligence and Business Analytics helps organization in meeting their Strategic Goals , near-term , long-term goals. These systems provide insights from raw data feed initially to a digestible and understandable information to the Executive management.
Business Intelligence helps giving insight with in Business Models, Analytics focuses on Business process and gives optimized solutions and thus helps decision making.
These systems provide details on business performance, help them answer many questions, some listed below.
How business is performing.

Current state

When compared to last year, last quarter, last five years etc .

Where is it performing well?

Where is it not performing well?

What happened?

Why is it not performing well ?

Why not ?

What happened?

What now?

Are we missing Goals, what/How and who, what change needed etc

What needs to be done ?

What should change ?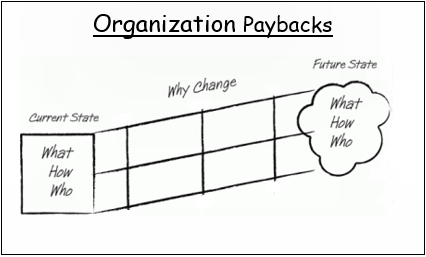 Business Users like, Executive Team, Middle management, Business Analyst can always do ad hoc analysis, ad hoc reporting and predict the impact of change to expected outcomes. Thus, helps management in taking decisions to meet Organizational objects, goals and targets.
Hope you would have enjoyed reading this blog as much as I had testing this cool feature; stay tuned for upcoming blogs.
You may also like reading " What is IBM Planning Analytics Local " , "IBM TM1 10.2 vs IBM Planning Analytics", "Little known TM1 Feature - Ad hoc Consolidations", "IBM PA Workspace Installation & Benefits for Windows 2016".
For more Information: To check on your existing Planning Analytics (TM1) entitlements and understand how to upgrade to Planning Analytics Workspace (PAW) reach out to us at info@octanesolutions.com.au for further assistance.
Octane Software Solutions Pty Ltd is an IBM Registered Business Partner specialising in Corporate Performance Management and Business Intelligence. We provide our clients advice on best practices and help scale up applications to optimise their return on investment. Our key services include Consulting, Delivery, Support and Training.
Octane has its head office in Sydney, Australia as well as offices in Canberra, Bangalore, Gurgaon, Mumbai, and Hyderabad.
To know more about us visit, OctaneSoftwareSolutions.