In the latest version of PAX (2.0.44) as well as PAW (2.0.44), IBM has added a new capability to allow the views to be shared between PAW and PAX using Planning Analytics Workspace Content Store.
What does this mean for us?
We can now save the views in content store and share it across to be accessed from either PAW or PAX which was not possible earlier. This further strengthens the integration and make the PAX and PAW interoperation even more seamless which a good step as far as usability and software portability is concerned.
Steps to access the views from PAW content store from PAX:
We already know how to save the views in content store within PAW – this is done by clicking the save button in the view and selecting the destination folder in content store.
To access the views saved in content store, click at View icon available on PAX toolbar that opens the folder structure of the content store.
Navigate to the folder where the view is saved then select the desired Report Type from the bottom and click Select.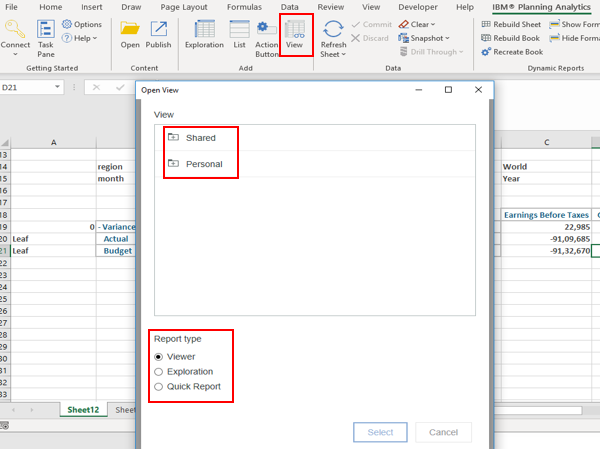 Steps to save the views in PAW content store from

PAX:
Note: This applies only to Exploration Views in PAX. For the other report types, they can be published to TM1 Applications folder from PAX and access in PAW. The saved exploration view when opened in PAW, opens as a normal view.
Open a view in Exploration mode and click Save View icon in PAX toolbar under Exploration tab.
You will be provided with two options to choose from:
Save to Content Store: This saves the view in PAW Content Store
Save to Server: This saves the view to TM1 data server.

When saving the view to Server, there is an option to save it as MDX view, however, please note that if this is checked, the view will not be accessible from Architect as Architect does not support MDX based views.
2.1 When saving the view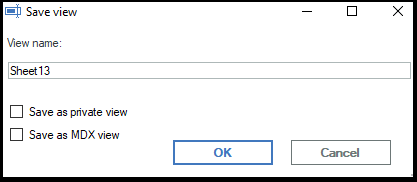 Once the view is saved in PAW Content Store, it can then be accessed from PAW and any changes made to the view and saved in either of the platforms will be reflected across.
*Tip: You may still be able to create a view in PAW and save it to TM1 Server so it can be accessed from both PAX and Architect, however be mindful that if you make any change to the view in PAW and try to override the view, that will not be possible. It will only give you an option to save the view in PAW Content Store. It is possible to update the view and save the changes in PAX that is reflected across all platforms but currently not in PAW.
To create a view in PAW, right click the Views and select 'Create view'. This view when saved will be saved in TM1 database directory and is visible in both PAX and Architect both.