This blog broaches all steps on how to install IBM Secure Gateway Client.
IBM Secure Gateway Client installation is one of the crucial steps towards setting up secure gateway connection between Planning Analytics Workspace (On-Cloud) and RDBMS (relational database) on-premise or on-cloud.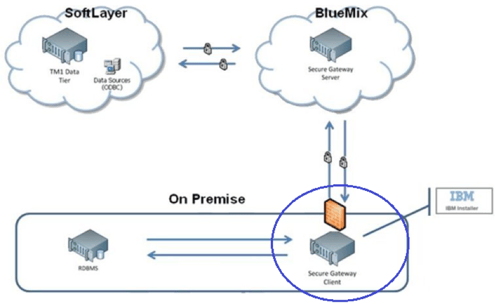 What is IBM Secure Gateway :
IBM Secure Gateway for IBM Cloud service provides a quick, easy, and secure solution establishing a link between Planning Analytics on cloud and a data source. Data source can reside on an "on-premise" network or on "cloud". Data sources like RDBMS, for example IBM DB2, Oracle database, SQL server, Teradata etc.
Secure and Persistent Connection :
A Secure Gateway, useful in importing data into TM1 and drill through capability, must be created using TurboIntegrator to access RDBMS data sources on-premise.
By deploying the light-weight and natively installed Secure Gateway Client, a secure, persistent and seamless connection can be established between your on-premises data environment and cloud.
The Process:
This is two-step process,
Create Data source connection in Planning Analytics Workspace.

Download and Install IBM Secure Gateway
To download IBM Secure Gateway Client.
Login to Workspace ( On-Cloud)

Navigate to Administrator -> Secure Gate

Click on icon as shown below, this will prompt a pop up. One needs to select operating system and follow steps to install the client.


Once you click, a new pop-up with come up where you are required to select the operating system where you want to install this client.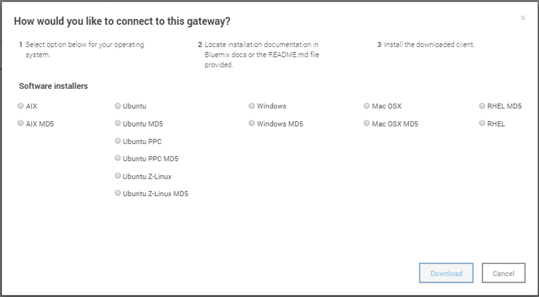 Choose the appropriate option and click download.
If the download is defaulted to download folders you will find the software in Download folder like below.

Installation IBM Secure Gateway Client:
To Install this tool, right click and run as administrator.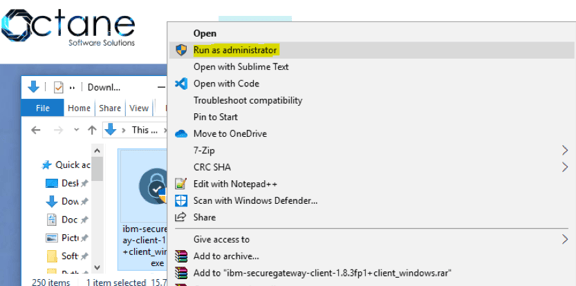 Keep the default settings for Destination folder and Language, unless you need to modify.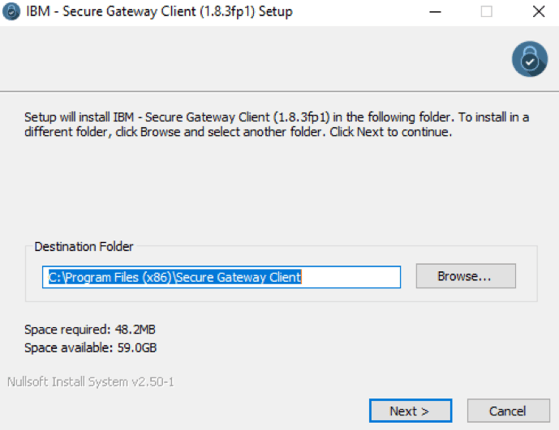 Check box below if you want this as Window Service.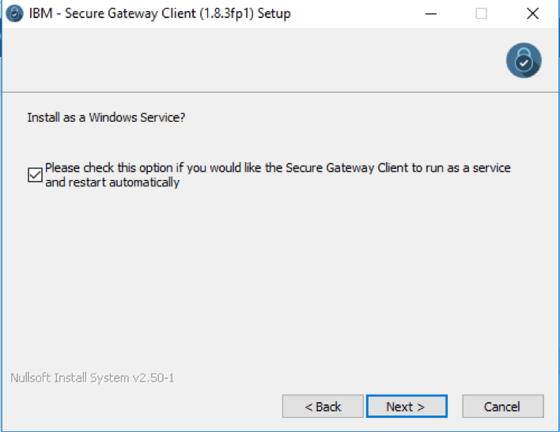 Now this is an important step, we are required to enter Gateway ids and security tokens to establish a secured connection. These needs to be copied over from Secure connection created earlier in Planning Analytics Workspace ( refer 1. Create Data source connection in workspace).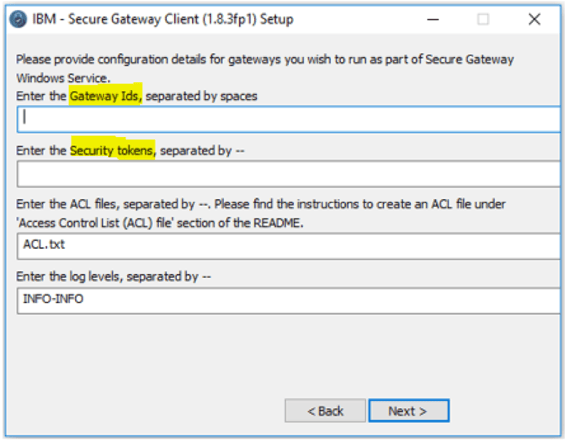 Figure below illustrates Workspace, shared details on Gateway ID and Security Token, these needs to be copied and pasted in Secure Gateway Client (refer above illustration).

If user chooses to launch the client with connection to multiple gateways, one needs to take care while providing the configuration values.
The gateway ids need to be separated by spaces.

The security tokens, acl files and log levels should to be delimited by --.

If you don't want to provide any of these three values for a particular gateway, please use 'none'.

If you want Client UI you may choose else select No.
Note: Please ensure that there are no residual white spaces.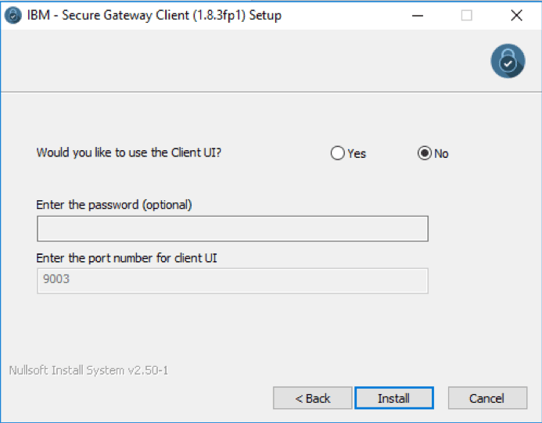 Now click Install, once this installation completes successfully, the IBM Secure Gateway Client is ready for use.
This Connection is now ready, Planning Analytics can now connect to data source residing on-premise or any other cloud infrastructure where IBM Secure Gateway client is installed.
You may also like reading " Predictive & Prescriptive-Analytics " , " Business-intelligence vs Business-Analytics " ," What is IBM Planning Analytics Local " , "IBM TM1 10.2 vs IBM Planning Analytics", "Little known TM1 Feature - Ad hoc Consolidations", "IBM PA Workspace Installation & Benefits for Windows 2016".